The lacking centimetre
powrót
I was fishing since I can remember. At the beginning, however, I kept my father company when he was fishing, reducing his joy of angling with impatience and never-ending questions. In time, however, it turned out that angling passion had taken root in me and started to fascinate me better than excellent silver screen comedies or horror movies. Following fishing trips have also shown that angling had a very beneficial influence on my personality – it was developing that feature I was lacking the most – patience. And the reason I'm writing about that all is that this story is basically about patience, with components of comedy and horror (but certainly with a happy ending).
Very early in my fishing "career" I started to formulate specific goals. Usually, at the end of the fishing season with my close fishing buddy (also sharing same school bench with me), we were making notes on this year best results and plans for the next year – the names of species and sizes of fish we plan to catch during the next season. I have to admit that we were very successful in execution of such plans and we enjoyed our private lists of trophy fish growing every year. The crowning achievement of my teenage angling was catching the pike 99 cm long. At the end of that season I wrote a goal to catch next year a pike 1 meter long. That was 26 years ago.
Since then my adventure with angling changed very often. There were years I was fishing a lot, there were years I was not fishing at all. However, always when I was taking a spinning rod in my hands this one meter pike was present somewhere in the subconscious. Gradually, (despite even of quite big successes) fishing for other species was becoming less interesting and the main driving force to go fishing was that hope for a big Esox. Well, I have to say that I was catching plenty of pike and soon the fish from 95 to 99 cm have become my spectre and peculiar specialization. It was so ridiculous that even in the US, where for instance one day I easily caught two muskies over one meter long, even then the biggest pikes I caught were ninety nine centimetres long! Years were passing by, nearly all my colleagues have already caught one meter pikes or longer and I was still stuck at magic number of 99, in exchange multiplied many, many times.
Then there was a period when I wasn't fishing at all because of the amount of jobs and family duties, until my friends at SALMO invited me to join them in their spring trip to Sweden. It was the year 2002. Suddenly a picture of one meter pike reappeared in my brain and I agreed to go immediately! I went, armed with previously unknown casting equipment and large number of SALMO jerkbaits with the newest SALMO baby – FATSO – in the front. Intelligent readers probably know the conclusion – I returned from this trip with 99 cm pike added to my account.
Next year and the next trip to Sweden opens an era of SALMO Slider – I'm much better in casting and using jerkbaits but the result is quite similar – the biggest fish I catch is 95 cm long, while majority of my friends catch fishes over one meter. I was happy for them and I have received that fact with calmness knowing that somewhere this one meter pike is surely waiting for me.
Year 2004 and the trip to the new region of Sweden. I go full of hope, our newest weapon is SALMO Skinner. Beautiful waters in vicinities of Nyneshamn bless my friends in turn with fishes over one meter. Nearly everyone has at least one such fish on his account. I'm only able to see one such fish – in everyone's opinion it had around 10 kg, but it has dropped off the hook in about five seconds after the strike. However, as always, I catch a pike 99 cm long ….
Again we visit vicinities of Nynes in 2005. The crew is strong – joined forces of the SALMO and the DRAGON teams. I feel quite confidently since I already know these waters and I have made some progress in jerkbait fishing on our previous trips. The first day however ends with some embarrassment – while fishing with Skinner I catch a pike … 98 cm! I told to my buddy in a boat: "If it had one centimetre more I would have killed this fish" (obviously we release absolutely all fish we catch). We were laughing for a while from my "lacking centimetre" before we returned to fishing.
Next days do not bring surprises, everything goes as expected. There is no surprise that Ania Schmid caught 111 cm pike. Everyone knows that Ania always has to catch something nice so this is not surprise at all. Similarly, no one is surprised with 102, 106 and 111 cm pikes caught by Piotr Piskorski, nor with 108 cm fish of Adam or 109 cm pike of Artur. These are rather normal results we are used to from previous trips. We can even say that it is not good at all – weather is not good, fish are generally not biting and generally our results are much worse than in previous years. As the date of departure approaches the level of adrenaline in the team decreases, as well as drastically decrease my chances for a one meter pike. Last day does not seem to be better especially that I became the captain of one of our boats and instead of focusing only on fishing I will have to drive the boat and make decisions where and how we will fish.
Last day starts slowly – fish generally ignore us, there are very little strikes and fish caught are definitely not monsters. The crew slowly gets discouraged, however my years of fishing together with friends from SALMO have taught me that as long as you keep fishing there is a chance. So I keep casting with floating Jack 18 – bay after bay, reeds after reeds … I see our second boat nearby doing exactly the same … It lasts until four thirty p.m. My crew starts talking about going home when I enter a very small niche in rocks where in a water 70 cm deep single reeds stick above the surface. I say to my friends: "A couple of casts here and we will be heading home". They stand up reluctantly in order to make a few casts but soon they say with disapproval: "How to fish in these reeds…". When my Jack is about three meters from the boat I say: "Okay, let's get out of here"… and in this very moment several things happen at once. I hear a deep sigh of relief of my friends behind my back, my foot starts electric engine in order to take us out of these reeds, and Jack … Jack disappears and in its place simply from nowhere a huge body of pike appears just under the surface. I react rather properly – I release the accelerator pedal of the electric motor, yell: "Look out!" to my friends, and set the hook strongly with both hands. The world focuses now on this green huge body in the water and all dangers – reeds, rocks, the boat and both engines. I analyze the situation in a flash and I see that there is no time to play with a fish that is too close to the boat and in not very suitable place for fighting.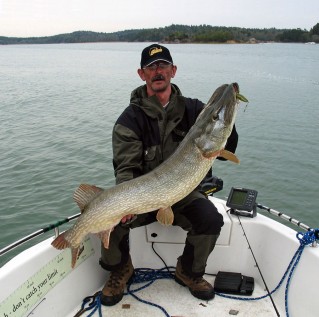 However I believe that my equipment is strong – new DRAGON braided line, new treble hooks in Jack, so … I tighten the reel's drag. The fish makes only two short, no longer than one meter escapes and in less than a minute I place it in a boat. It is absolutely beautiful. I certainly know that I have finally caught pike over one meter. Now it starts to be both funny and scary because we realize that no one in our boat has measuring tape and the fish needs to be released as soon as possible. We call "the second boat" immediately and very soon our friends assist us both with the measuring tape as well as in making a couple of pictures. I weight and measure my fish – it has 119 cm and 12,5 kg. My dream has come through – the plan made 26 years ago has exceeded the target figures. If I manage to find my notebook from my high school years at the end of this season I will be authorized to proudly cross out the number "100″ and add a new target for the next year in the "pike" category- "120″. And it seems that again I will have to fight for just one centimetre. Well, it seems such just is my angling fate – at least it gives me something to do, possibly even for the next 26 years…
Wojtek Gorny