Dedicated to Salmo Giant Chubby
powrót
Giant Chubby was an unquestionable favourite of my catches of the last season. It allows to achieve long distances and great depths. Thanks to these assets, it is possible to check out new, interesting spots in a dynamic and efficient way, without waste of time. I think it is thanks to special balance and corpus' geometry which makes this lure an unique one. If we let it fall free on a loose line into depth, it works just like a crankbait with its nose turned downwards. For this reason my own chubby is well beat-up and, in fact, lost his nose already thanks to endless hitting the stones. It did not affect its performance, though. The technique of fishing with this lure is very simple, because half of the work is done by itself. Despite this, it is very easy to generate its movements, by the cost of the speed of sinking, of course. It is possible to let it go to the bottom, and then pick it up with a short rod's movement and back to the bottom again. Next pick from the bottom can be stronger- this will make the lure move upwards faster. Then we let it free fall again. With the next Chubby's move there is usually the attact of a pike. With the pick ups, Chubby usually vibrates heavily. So if the angler is well sensitive to its work, he can control each and every stage without any problem. And, as a result, the angler does whatever he wants to do with it.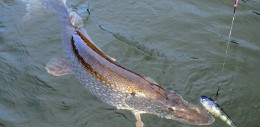 And here in front of me is a beautiful piece of a steep land with fallen trees. Emotions get heated! Fish has shown itself – a big pike flashed following Chubby between branches of a sunken tree. It is obvious, that he is active and will hit again. A second cast and it sits! Strong and sure hit. I strike and the game is on. The line is tight, but I cannot let him win too much advantage. It doesn't want to show itself. It swims right, left, in circles under the boat. But this is what we were waiting for! The emotions and luck! It is surely a result of non – standard approach to the spot and the fishing technique. And magical performance of Chubby. The fight is on. Fish showed itself, glanced at me and swam straight to the deep! No splashes or jumps – stubborn, unstoppable move. But the reel's gear 6.4: 1 makes the difference and the fish is closer and closer to the boat. And here everything goes fast- lip-grip by the jaw, quick photos for memorising, weighing one more photo and quickly straith to the water. All according to Catch& Release principles. Firstly, the fish is shocked, but a moment later it swims away slowly. I, of course, happy and full of adrenaline stay on the boat watching the water with a comic smile. I am wondering already, how big it is going to grow until our next meeting. I am glad for choosing the right lure and grateful to Chubby for the trophy. In fact it opened my good 2010 season on Krasnoyarsk Dam Reservoir in May. At the end of the day I found a nice hole near the stream's estuary. The fishfinder was showing 7-8 meters and a lot of fish near the bottom.
Despite I have tried many 'Bulldogs', 'rattlins' and deep sinking jerks, the beautiful, 5-kilo mummy found its taste exactly in Chubby! That was when I started believing in this lure and instantly topped up my supply with all the colours available, though his effectiveness is rather the result of the unique performance.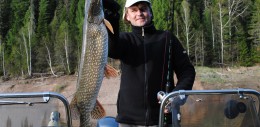 As widely known, the fishing technique with Chubby is related to great depths near the bottom, and the hooks are big. So I caught a lot of branches and stones on it by the way, but lost just one due to a snatch.
I would like to mention one more advantage of Chubby, not due to marketing purposes, but just to comment on the facts. The price of this lure is democratic and the right by all means. Available for youngsters and beginner anglers which, no doubt, makes it a mass lure.
I also bought a small Chubby Darter and used it successfully in the summer for perch fishing vertically under the boat. Such a super-bait fishing brought me lots of fun.
To finish, I have a sum-up motto: 'depth – trophy – Giant Chubby!'
Wiaczesław Naumcew