Two Amazing fish on my new sinking Warrior Cranck
powrót
Fishing is my passion for quite some years now. I started as a litte boy fishing for roach. Soon after I wanted to catch a pike. My mate took me live baiting. It was with a live bait that I caught my first ever pike. Since that moment I have been fishing for predators. As a little boy from 12 years old I had no boat or desent equipment, so I focused on the small streams near my house. I caught lots of small perch and pike.
As I grew, the equipment became better and I gained some good fishing friends. After a while I bought myself a boat so I could go fishing where I wanted and when I wanted. Of course, big water means big fish, and that is when Salmo came in the picture. I remember my first big lure: a 14cm floating Salmo Fatso in the Real Roach colour. Man, I have caught lots of fish on that one. After the Fatso came the biggest Slider and after a while I had nearly the whole collection of big Salmo lures in my tacklebox.
It was about a month ago that I received a sinking Warrior Crank in the Real Grey Shiner colour. A lure that you can use both trolling or casting/twitching. It was on a big lake in Holland where I caught my first pike on the Warrior Crank, and it was a big one!
It was a windy day in August. I was fishing with fishing friend Sander Paans. We do not often fish together, but if we do we mostly catch big fish. His personal best pike with 125cm long was caught from my boat while we did some zander fishing with a fire-ball set-up.
The plan was to do some trolling and casting to see if we could catch some (big) pike. The day went realy well for me. First pike caught was 105cm long. Not long after I managed to catch a pike from 112cm. Casting with a rubber lure over 3 meters of water.
The day was nearly end when we decided to do our last trolling lap. I saw my brand new Salmo Warrior Crank in my tacklebox and I decided to put it on the long trolling rod. I trew the Warrior far behind the boat and started the motor. It was not long after, that my Warrior was attacked by a pike! Sander took the other lines out of the water as quick as he could that I could prepare myself for a good fight. First it seem that the fish wasn't that big, but what happend: the pike had come to the boat, and on the moment that I had the line tight he took a amazing run. Adrenaline was pumping true my body, what a strenght!
The fight took about 3 minutes and Sander managed to land the fish for me by hand. What an amazing fish!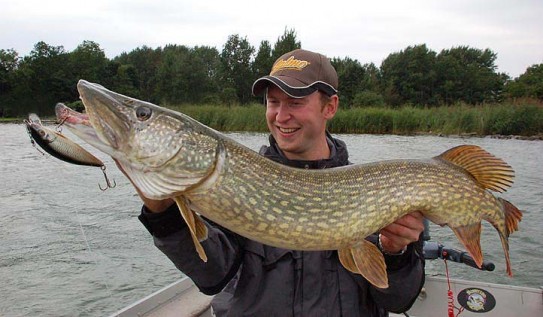 We unhooked the fish and the measuring tape came next to it: 116cm long! My first ever fish on the Salmo Warrior Crank sinking, yeah!
The fish was released without any problems, amazing
A week later i visited another water. The weather was not realy pike weather, sunny and hot (around 25 degrees). This time I was with my mate Robert-Paul Wolters. He is one of my best fishing mates and we spend quit some time on the water togehter. It was with him that I caught my personal best pike from 122cm in the middle of winter on a massive lake. This
time we have gotten another surprise. The day started good for us. We both caught several small fish and had a good time. The weather was excellent so being on the water was no punnishment. We did some trolling and casting and it was during casting that I caught my second big pike.
I knew a very good spot where we had caught big pike before. When we came on the spot my mate decide to start of with a swimbait and I took my Warrior Crank out of the tacklebox.
In the fisrt couple of casts I got a follower, but this one missed the lure. A few casts later I saw another fishing friend of mine, Nico Molkens, arriving on the spot. As I was looking at his boat, I gave a twitch, let the Warrior hang, and I gave it another fast twitch. BAM! It was like hitting a brick wall, the take was very hard. The fish took several meters line from my reel. "Robert-Paul, fish on! And it is a big one!". My mate controlled the boat while I was fighting this big fish. The fish came to the surface, the Warrior was no where to be found, gone in the mouth from the big pike.
Several boats stopped to get a glimp from the fish I was fighting. "Is it a big one?" was the question that lots of people asked. I did not have to answer, the pike flew out of the water and the people on the boats where shocked.
After a while my mate landed the fish. He took the front treble out and i cut the bottom treble. We took some photo's…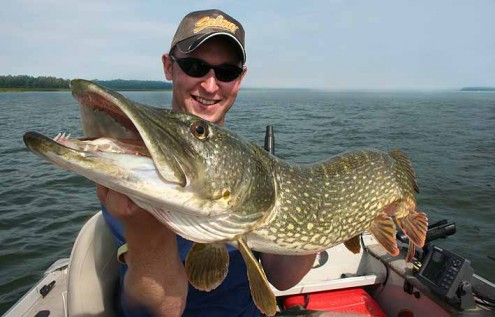 and we measured the fish. With 112cm a very nice pike. Of course we released this pike as we always do with every fish that we catch!
Two Days fishing with the sinking Warrior Crank gave me 2 massive fish. Is it just luck, or is it the lure?
Give this lure a go and you won't be disappointed!
Best regards,
Thijs van der Sanden