Duch Perch
powrót
When I discovered that I would have an opportunity to go 2 – day fishing in the Netherlands at the turn of October and November, I had an idea that it was an excellent time for testing Salmo Sweepers, which I didn't happen to try before, and new colours of Sliders for 2011.
Shallow Dutch canals are excellent fisheries for jerk lovers, which I had an opportunity to check during a few trips in this region. This time, though, I ended up in entirely new even for me neighbourhood of Dronten town, the place of the head office of Raven network – the biggest fishing shops in Europe.
During my previous fishing trips to Dutch land the fishing was so – so effective, but there was one thing always unchangeable – horrible weather. It was no difference this time and our team was welcomed by rain and penetrating cold.
We began our fishing on the largest canal in the region. Fellows started with a soft baits and myself with a small, CYP colour Sweeper. Not langer than few minutes later, the agressively led lure was attacked by a nice pike, unsuccessfully, leaving a spectaculuos swirl and speeding up my heart beat. Unfortunately, sweet beginning with sour end, one could say…
During two next hours no one of us had a slightest contact with fish. I decided to switch to a larger calibre lures and used sinking Slider 12 in TSK colour. After 20 minutes I stood in a new place and not later than in the first cast I felt a strike. At the beginning I thought it was a small pike, but a moment later I felt characteristic vibration and I knew instantly that the fish was not the usual one. After dozen of seconds my eyes spotted an enormous perch, which swallowed a 12-cm long lure in one piece. I couldn't believe in what I saw. When the fish was placed on the river bank, I found that it was not enormous, but simply MONSTROUS! Without measuring, I knew that it was my new lifetime record, though, the previous one wasn't small, too, and was 45 cm long. The fish was unusually fat, almost without stripes, with noble eyes and ragged tail. Its age made it look like moss-covered. With my fellow, we measured the fish exactly and the measurer showed 47 cm. Unfortunately, in the heat of the moment, we forgot to weigh it and after photo session I gave her freedom back. I can only suppose that my record perch weighed at least 2 kg. It is enough to look at its photos- this fish was almost round. No suprise, if it attacked a lure like size 12 Slider!
I decided not to change the lucky lure and use my Slider it until the end of the day. Couple of hours later, we moved to a smaller canal flowing through the fields, where middle – sized pikes were taking. We knew very well if any of us had some fish on the rod. Suddenly, I stepped to a small wooden bridge, which was carrying the field, ground road over this charming canal. Not thinking much, I cast a Slider in the proximity of a pillar and two movements of the rod's tip later I saw a huge swirl sipply one meter away from the lure.
A split second later I felt a take, which I responded to with an agressive strike. Because I was standing on a dike about one meter above the surface of the water, I had an excellent view. The fish, instead of escaping after the strike, swam in my direction and not sooner than when I saw it and I went weak in my knees. The pike was, no doubt, 120 cm long and a very wide neck. Unfortunately, the next detail I spotted was the fact that a 25 cm leader which I used for equipping my set, completely disappeared in the predator's jaws. I didn't even manage to come to accept the fact that our ways won't meet again, when the pike mommy spotted me and made a sudden turn. In a split of second the rod straightened, the line started waving freely looking like Indian summer, and my second lifetime record swam away with the Slider in its gut. I hope that this beautiful specimen will manage to free itself and will rule on under the bridge and in the region. Well, apparently catching two 'personal bests' on one day wasn't given to me. Until the end of the trip we also caught a few pikes, but thir sizes weren't worth mentioning.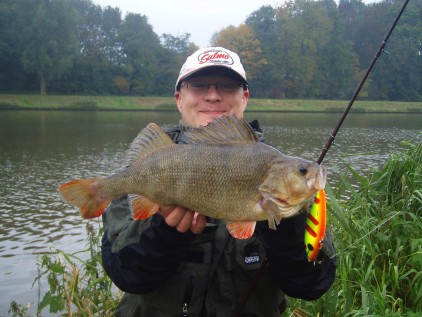 I said goodbye to the Netherlands with a bit of hunger, and a strong decision to come back as soon as possible and more frequent choose of Sliders in TSK colours.
Ewaryst Sielecki – Salmo Super Hiper Extra De Lux Mega Pro Fan Team ;-)