Jack is back!
powrót
How comes that gliding jerkbaits are so popular and so called pullbaits are often ignored? For me, pullbaits work year round and catch me a lot of fish. In pullbaits, you don't find the 'worries' many anglers have in fishing a lure in the right way. With pullbaits you simply can't go wrong.
One of these pullbaits is the Jack 18. A Salmo product, introduced in the same year the famous Fatso came to us. Fatso found its way to may anglers tackle boxes, and from there to many predators jaws. I had the good fortune to be one of the first to fish with Fatso, but at the same time, I fished Jack 18. Actually, Jack was a jerkbait who for me was ready to fish in any given location. Bulky Fatso was and never will be a lure to be thrown in small shallow canals we have in Holland. Salmo's Jack, although longer in shape stall has the weight and profile to match the conditions we have in the lowland drains. At the same time, Jack is big enough for the biggest lakes and rivers. Trying Jack for the first time was a great experience. The Salmo boys send me a few with different weights, and in just one silvery colour. It caught fish for me in both the canals and in one of the biggest body's of water we have in Holland. A few months later I was fishing Västervik's bays with friend Arjan Butter when we met Piotr Piskorski. Piotr had the finalized products with him for a test. Västervik, with al the pike it has is the place to test new products. You learn in short time the positive and negative sides of new products. Arjan took one of the new Jacks from Piotr, made a cast and hooked a pike in the very first cast made. Is there a better way to gain trust in a new lure?
In Jacks six years life, I had many great fishing experiences with the lure. I use it over the year in al possible conditions. Jack is a great spring jerkbait. Early months seems to be the time that big pike hammer Jack like no other lure. During the summer I troll Jack often. If I need to go deep, and exceed five meters of more, I ad some lead in front of the leader and fish Jack in the troll with long slow pulls for and backwards. If you do so take care that the line is always under tension. Back in the autumn, Jack is one of the best lures for general jerkbait fishing again. Many small pike, being safe during the summer in dense weeds have to leave their save shelter only to fall victim to bigger pike. Actually, you can't go wrong with Jack wherever you fish it. Jack is also super under rough conditions. In a fast drift caused by strong winds, one easily looses control over any gliding jerkbait. Not so with a pullbait and certainly not so with Jack on the line! Salmo make two Jacks. There is a floating and a sinking version. For the shallow waters I tie on the floater, in deeper water it's the sinking version. Regarding Jack's colours, I think that the pike colours are all you need. For me it is one hundred percent clear that pike really see Jack as a smaller and eatable version of themselves. Using other colours might take this advantage away. It is also surprising that over ninety percent of the fish I catch are hooked on the breast treble!
Over the last eight years I fish during spring in Sweden's Västervik. It slowly becomes my second home. Västervik is a super place to be as a pike angler. Its serene beauty, endless bays, hundreds of islands, sunken islands, bays in bays, rockbars and weed beds provide endless pike fishing opportunities. Over the years I learned to make a selection of lures travelling with me. Baby Fatso is a super lure over there. Sliders can't be missed. I have some Warriors with me and a few 15 cm. Skinners. And Jack's! For sure some Jack's. This year, there was something wrong. Västervik had the coldest winter for sixty years, ice in the bays in the early morning, and during the whole stay, not the slightest breeze of wind over the waters. We know that the south of Västervik, regardless the conditions always provide pike, but mostly they are small. If one concentrates on these pikes, there should be no problem to catch up over thirty fish or more each day. But we like the pike big and concentrate on these places where we know, these fish are there. I fished the North and of coarse, the Old Bay. The first few days I fished alone, did some fly fishing and caught pike on Jack and some other Salmo lures. Later I had angling magazine Beet's chief editor Pierre Bronsgeest with me. With Pierre and Anders Forsberg, we discussed the coming pike competition. I told Pierre about Västervik, how many pike one can catch and told him about the beauty of the place. I fished with Pierre for two days in again, flat calm conditions. Not a sign of wind, or ripple on the water. Absolutely "anti pike" weather. Pierre fishes all kind of fish, mostly bream, roach and other coarse fish. Jerkbait fishing was relatively new for him. So I told him about Jack. At sight, Pierre was not convinced of its fish catching quality. Something I can imagine, for if you see Jack first time, it might be hard to believe that it actually is catching fish. Pierre had more believe in the more violent action of crankbaits. But not for long! First I missed a pretty good pike and hooked one a few minutes later. Pierre switched to Jack and fished Jack on a spinning rod, tried to copy the action I made and connected to a big fish. A few minutes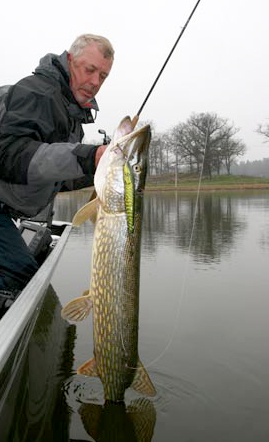 later he had a 109 cm pike in his hands. Two hours later, we had four pike over a meter and a handful of fish somewhere between ninety cm. and a meter. All together, we boated seventeen good fish, looking happily at some pretty beaten up Jacks.
The next day I fished with Marcel Ulje. Goal was to test a number of new rods and some new reels. Marcel, like me is a frequent visitor to Västervik, so I asked him where he would like to fish. Marcel wanted to fish the Old Bay, where he previously fished some shallow spots. Once there, the location was so shallow that we hardly could fish. It was time to show Marcel a six year old trick. Using a sinking Jack doesn't seem sensible in less than one meter deep water. But it is. By turning Jack backwards, you create a complete new lure. Ad the tail treble to Jack's nose, and the snap of the leader to Jacks tail. Now cast and see how easy, precise and far you can cast Jack. Next you fish Jack back with slow, gentle downwards strokes with the rod. Jack glides left right like no other glide bait. Just as important: the lure stays high in the surface. It did not take that long to see the first pike roll towards gliding Jack. The fish started at least ten meters from the lure, accelerated the last two meters and hammered poor Jack. I can make a long story about the two day's Marcel and I had, but we had fish over a meter on the backwards fished Jack. In some cases, Jack was ripped from the surface as there was no better subsurface lure. Amazing, that one lure can hold so many secrets. Does this means that Jack always should be turned around? No way! And for sure, not in deep cold water. I can imagine that in warmer water it might be a deadly way to fish, but as a pullbait Jack is the best you can have in the box. Let's wait for the summer to come and experiment a little more. Try it for yourselves. And don't worry, it's a Salmo lure. The catch fish any way.
Bertus Rozemeijer