The magic of that lure
powrót
Sometimes you wonder in where the catching power of a lure is hidden. Take Jack 18. One of these lures the Salmo boys created some five years ago. I still remember Piotr's face after the first cast made with Jack. It was my friend Arjan who reeled the lure back and hooked a pike. OK, it wasn't a giant, but he, first cast, new lure and there you are. It is catching.
Nowadays, I never go out without at least one Jack in the tackle box.
I can imagine that many novice jerkbait anglers are a bit sceptical about Jack 18. It is a bit lean in shape. Is the silhouette it makes big enough to motivate a pike to hit it? And in the retrieve, you will feel uncertain about the way it should be fished. You might wonder if this is that all it shows of? Sometimes, yes it is. For your eyes that is. But take a closer look at the movements of a floating Jack 18. A good observer will find that Jack has a lot to tell to the pike. Is slides unpredictable to the left or right side of the water. It dives in a slow movement and at times, hops to the surface. At the same time, it shows of a very delicate wiggle when it comes to rest in a head down position. This is just what a pike would do when it comes to rest. If you need to cast long distances, or if you fish in deeper water, the sinking version of Jack might be the best choice. It is a bullet on the line, and for that reason you can place it exactly there where you want it. The movements of sinking Jack slightly differ from the floating brother. It has a more forward move, but this appealing wiggle at rest is exactly the same. I often use this to trigger the fish. Just a small pause, brings the lure slightly deeper, but while sinking, it keeps rolling from side to side. Not in a overdone way, but enough to convince any pike near it, that this is a small brother or sister in big trouble.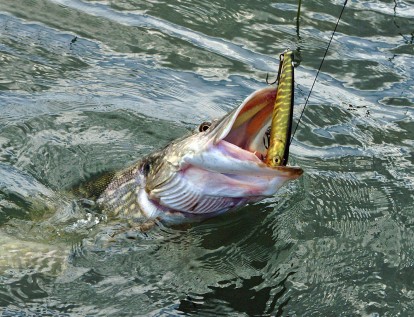 Actual fishing with Jack is dead easy, but due to its willingness to respond on the movements of your rod, you might wonder what the best way to catch pike with Jack is. For me, this works best: After you made your cast, pull Jack down with some long strokes with the rod. Move the tip of your rod from hip height, to the water surface. Two, three strikes and Jack is in the maximum depth, about one meter or so below the surface. At depth I pull the bait back with slow longish moves of the rod, due to which Jack dives to an extra fifty centimetres. Keep in mind to reel in at the same speed, so there is no or hardly any pause in retrieving line. While moving the rod back to its starting position, you create some slack line. This causes loss of pressure on the lure, which brings it back to a higher level. So in short, Jack dives in a slow angle and actually wants to go back to its starting position if the pressure is of the line. This, what we call "sawing" movement on it selves is already enough to drive pike crazy. For sure, you can add some variations by making short twitches in between or bring the rod down in two or more steps, and yes, you can alter al action in the lure. Only few lures on the market allows you to create your own fishing technique. And this puts Jack 18 on a very high level in an overcrowded lure market.
Bertus Rozemeijer