My Baby
powrót
Pike eat big lures, that's the secret we all know of. And for sure, pike likes big baits to sink their teeth in. But is this always the case? No it is not. In many cases pike can feed like mad on small baits. One of them is the Baby Fatso.
Why should one use a small lure for big pike if there is big bait for them, a lure that has proven to be the best of the best. A great lure that is irresistible for many predators but especially so for pike. Fatso is the name of this one. A big bulky lure that caught me lots of pike over one meter. A number of good catfish, colossal zanders and many salt water game fish. Reason one is the weight of Fatso. Casting this lure all day is tiring. Remember, Fatso weights close to 100 grams. Do this over eight hundred times a day and the next day your dead! The baby version weights a lot less, has the same action and to my big surprise, catches a lot of fish too. No, don't worry; babies do not catch baby fish only. Girlfriend Moniek started to fish the baby this spring. Casting for her, with this light weight is an easy all day job. And I must admit it's nice for guys too! As you can also downsize the rod, there is a lot more fun in playing the fish, and boys, it is catching big fish!
Can the boy learn something from the girl while fishing? Sure, hard to admit, but we can. We like to jerk our baits and fish it aggressively. Hard strokes with the rod, fast twitches, you name it. Then there is a girl next to you just reeling the baby back. Of course, you have to say to her that this is al wrong. It is a jerkbait silly! But before you make clear how to fish the baby there is a big swirl and one big pike for the girl, way over ten kilo's. And that's not all. She just goes on with catching big fish. So, you try to fish the same way. Hell, its hard not to jerk. It seems so right! Believe me, it can be right to jerk the baby and yes, pike can and will respond superb on a jerked lure, including the baby, but as a simple crankbait, this lure outperforms many others. So, what can you do to get the maximum result out this lure? First: do not fish it too violent. Small baitfish's simply don't move aggressively! We fished the baby in Ireland. First I fished the baby with Frank Jonker on Lough Sheelin. The results with the lure where astonishing! Other anglers on the lake informed us that the pike was responding very slow on there offerings. Starting of sceptical we fished Jack 18 and the baby. Sure, we had pike on Jack, but the baby was simply the best lure at that time. We fished weed and black water, but regardless the place the baby was swimming, the pike simply could not resist this small lure. Than with Moniek, we fished Lough Corrib. A superb pike lake, but sadly hard fished with nets by the fishery boards who still think that pike destroys a trout lake.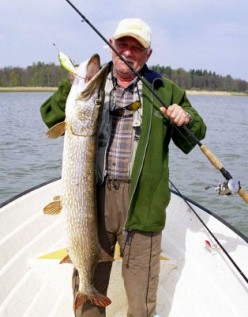 Anyway, we where there and fished from an Irish lough boat for pike. We could make superb drifts over a variation of bottom. Rock bars, black water and pike weed passed under the boat. I don't think it took more than an hour before Moniek caught her first one meter pike. Of course she was cranking back the baby. So I had to work the same way, although altered with miniature twitches. I simply could not resist doing so. We had nine pike that day. Many of these pike where close to or over ninety centimetres, and three over one meter. Our guide was convinced that jerkbaits worked!
Trolling the baby turned out to be deadly too! Friends Frank Jonker and Arjan Butter started up to fish the baby this way and had some astonishing results with it. Days with several pike over one meter, up to 118 cm all fell on the Baby Fatso. To me a successful troller, you need to finesse fish this lure. Saying this, the main things are line and leaders. As the baby is a smallish lure, a hard, thick or heavy leader might damage the natural roll this lure has. Refine the leader! Titanium braid can be great here. Do not fish with powerful rods. Babies do not weight that much and the pressure under the surface is not that big. Even the slightest interest of the pike should be felt on the rod in order to respond. And as you fish lighter rods, hone the hooks under babies belly extra sharp to make sure, you catch these big ones on a small lure too.
Bertus Rozemeijer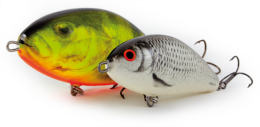 Salmo FATSO