One evening with "fanatic"
powrót
Late evening sky covered with dark clouds. Early morning skies opened and it rained heavily. Temperature dropped. Not further than yesterday it was so warm, that I weared only a T-shirt. Today I'm wearing a Polar jacket and windstopper on that, but I still feel the cold. But it doesn't matter, to be true, cause the most important thing is that rain stopped and sky got brighter. And I was so afraid that one of four days that I assigned for fishing will go straight to hell.
It started bad. First cast, two turn of handle and a hard snag! Crank got stucked between the rocks in the middle of the river and I can't release it, though I'm trying any known to me trick. What to do, I had to loose it. My excellent mood was gone in a second! I'm really pissed off! I am very annoyed with it, because my loss is so painfull. It was the last of, an excellent lure, Salmo jointed Loach (Fanatic RG), and it was lost at the beginning of my fishing. Without it, at the first moment, fishing seems to be dull. Luckily I have two of it's siblings – jointed trout (Fanatic T) and blueish dace – (Fanatic RSM). I choose the trout imitation.
Current is fast, with gravel and rocks on the bottom. You can expect trouts on almost every place in the river. I'm casting my lure to the other bank and using the flow of the current to retrieve my lure to my bank, so I'm able to penetrate all of the water across the river. But trouts seems to be vanished, even the most active small ones today show no activity.
loose my hopes for tempting any trout to take, ensuring myself that the cause is the sudden fall of the temperature and change of the weather. But maybe I haven't find them yet?
The take was very strong and violent. From the start I knew that fish is good. And just be the hint of hope that it may be a trout my levels of adrenaline were sky – high! First few pulls on the rod tip boiled me instantly. But my emotions calmed down when I saw a gold flash of fish side and red anal fin. It wasn't the first of so much expected "spotted" 50cm trout. It was a chub, but what a chub it was! Fat, bulky, at the first glance at least half – of – the – metre long and propably over a kilo and half weight. And it impressed me, as it was fighting with unusual strenght, very impresive and dynamic fight! It haven't give up even when it was brought to surface to "breathe some air" – it lasted three of such tries! Also few fast runs to the middle of the river impressed me a lot. There wasn't a doubt that it is the biggest chub I've managed to catch so far. When measured scale shows 52 cm and 2 kilos of weight. Fast photo sesion and fish goes back to water.
Soon it seems like I won some kind of lottery! In one hour I catch five of them, only one not exceding one and half kilo! All of them on one lure – Fanatic Trout Salmo.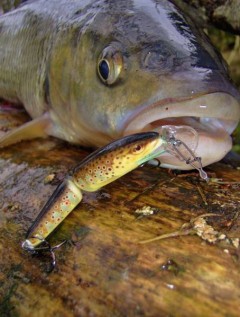 Andrzej Konowrocki