Vertical Lures
powrót
These lures are suitable for jigging, that means for moving and jerking the lure vertically. A lot of them are suitable also for traditional spinning as well as some of them are also suitable for trolling. In the SALMO offer the brand new family – Chubby Darter, represents vertical lures. Also Salmo Zipper is a cross between vertical lure and classic wobbler.
Chubby Darter is an excellent lure for ice fishing. When fish bite well we use the lure alone, without any additional attractors. We rise and lower the lure smoothly on a distance of approximately 60 cm. You have to practice and observe the lure in clear, shallow water or in aquarium to find the optimal speed of Chubby Darter movement. The lure should wobble intensively, both when raised and while sinking. After each cycle you should make a pause, depending on the fish species and circumstances, from 2 to 10 seconds long. You should start fishing near the bottom, moving to the surface, repeating the cycles every one-meter of depth. Sonar is invaluable here, it allows detecting a presence of fish in the vicinity, establishing the depth where they are and see whether they show any interest in our lure, all without wasting of time. If you see that Chubby Darter has attracted the fish and despite of that they do not bite, you can use one of tricks developed by professional US ice anglers. The simplest one is to add natural bait (like earthworm or small dead fish) on the lower treble hook, you can also replace a treble hook with a single one. The final solution is to attach a short leader to the lower or to the rear ear of the lure. Leader, made of the line a little bit thinner than the main line, should have a length between 5 and 8 cm and the hook attached to the leader should be a size of No 8 – 2 (depending on the size of the bait used). Instead of a hook you can use a small jighead on a similar hook.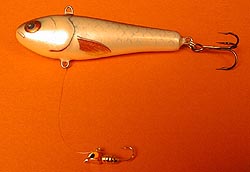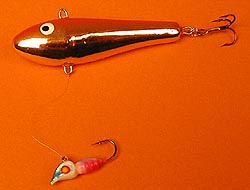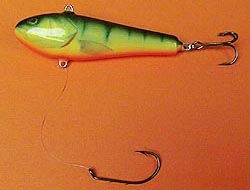 While using this method you should remember that all manoeuvres with this system should be calm and delicate. Especially lowering the lure should be done carefully to avoid leader and the main line tangles. Bites might happen both during rising and lowering the lure.
SALMO Chubby Darter is suitable also for traditional spinning. Because of relatively large weight in comparison to its size (6 cm and 15 g), it can be recommended only for fishing deep waters for perch, walleye and zander (8 – 20 m). The fishing technique is similar to heavy jigging. Chubby Darter works both while being risen and while sinking. For this reasons you should watch your line carefully all the time and instantly react to all suspicious signals. A stiff and short (1,85 – 2,25 m) rod and a braided line (preferably in intensive, like yellow, color) are the best for this kind of fishing.
The biggest lure from this family is Giant Chubby. It works exactly the same way as three smaller Darters. Giant was created for fishing for large freshwater and saltwater predators. It serves both for ice fishing as well as for fishing from boat at the depths from 2 to 40 meters. It works well both from drifting and anchored boat. It can also be used for jerking. However you should keep this lure under constant control since the majority of bites take place when the lure is sinking. For this purpose a typical casting tackle is required (a rod between 1,8m and 2,1 m plus multiplier reel) with a strong braided line. Jerks should be fluent but relatively aggressive. The line should be retrieved very fast in order to avoid tangles of treble hooks with the leader. Very soon after introduction of this lure to the Salmo offer it turned out that this lure is excellent for trolling. It can be trolled with any speed without loosing its efficacy. And efficacy even increases if you raise this lure from time to time with your rod, moving the rod tip from the water surface one meter up. Depending on a boat speed and the distance of the lure from boat this lure works well at the depths from 2 to 10 meters.
Absolutely new lure introduced in 2005 is Salmo Zipper. This is neither typical vertical lure nor wobbler. This lipless lure is similar to the design known worldwide for over a century. Zipper however beats other designs in some respect. Placing of rear treble hook under the belly of the lure nearly entirely eliminates tangles. Additionally Zipper does not lies down on a bottom at its side as other lures do but "stands" on its belly being still attractive prey for following predator. It can be used for vertical fishing as well as for spinning – or better yet for "jerking" – raising a lure a bit and the allowing it to descend under control.
Copyright © by SALMO All Right Reserved.