Wels on Hornet – 13.08.2005
powrót
We get up quite early. We have to drive roughly 60 km to our fishing spot, partly using very winding roads. We reach the spot just before sunrise, however we are unable to see the Sun through leaded clouds. Short meeting with the owner of the fishery and we quickly decide where to start fishing. Soon we are unpacking our gear from the car and we are ready! We start at the center of the reservoir.
We are lively discussing lure choices while observing the water. We start with heavy tackle. I'm hoping to be able to test at least one of the two new jerk rods. They are both Rozemeijer's. First – One-piece classic 80-100 g rod armed with TICA CAIMAN CA 201 and Power Pro 50 lb line, second – the new series 2 Jerk It 80-120 g rod with Abu Ambassadeur Ultra Cast 5601 and new 40lb Corastrong braided line. Just in case, I have the third rod, 7 feet Premier up to 17lb (¾ oz). This one is however just in case if something goes wrong with two new ones or if I decide to try fishing for abundant here zanders.
I start with heavy lures – Warrior, Fatso 14, Skiner 15, Slider 12 unfortunately do not produce desired results. We start to carry out experiments with lures. 15 cm rippers, Siudak jerks, the biggest Rapala DT, Guzo's and Xavi's spinnerbaits – unfortunately still no luck. We start to doubt in owner's assurances of abundance of fish in this water.
We slowly start to think about a break and breakfast. Clouds on a horizon are getting darker. Soon we see a small storm passing by, fortunately missing us. The Sun appears but we still haven't had any contact with fish. A new portion of energy after breakfast leads to more fishing. We are just hoping for any sign of fish, even of very small one. But still nothing…. Lest and less room for experiments. We finally sit on a grass and start to think what to do. Sun encourages just staying where we are and take some rest. We rest 15 minutes. Marcin's mobile is ringing – his friend is calling asking about results. He asks what are our plans. It is 11:35. I say just for a joke: "Fish are not biting now but they will start at noon". We wait until noon then. Well, since they are supposed to bite now, it is time to get up. I have lost my interest in jerking so I decide to change my tactics based on the old rule – IF YOU HAVE TWO RODS A LARGE FISH WILL ALWAYS STRIKE ON THAT MORE DELICATE. So I take Premier rod, tie nearly new HORNET 6 PH and I start fishing again. I go straight to the end of the reservoir. I have a shore with weeds on one side, on the other side deep water, three, maybe four metres. First cats, then another one, light fishing can be a real pleasure … Third cast and I feel a strike combined with a splash on the water surface. I'm absolutely surprised and I can hardly believe – I've got him, I really do!!!!!
I'm checking reel's drag and everything else. All looks perfect. The wels dives immediately and tries to keep at the bottom. The rod is up to 21 grams but it allows pumping the fish up to the surface. But when I bring the fish 2 metres closer, it goes away another 5 metres. This last a bit more than five minutes. Then I ease a drag a little allowing the fish to move away. I want it to move away since here where I stand there is no place to land it. When the King is far from me I start to walk towards more flat and better accessible shore. The wels suspects something and rushes towards me. Then it stops and starts fighting again. I need to be very careful due to weak trebble hooks in Hornet 6 not designed for such "big game". The wels firstly stays at the bottom, and then makes a trip to the opposite bank. I move along the shore and finally I reach a spot suitable for landing.
Here I have more freedom. We start a typical tug-of-war play. Who will give up first? Who will make the first mistake? I'm still trying not to break trebble hooks. If only I could see how the fish is hooked and what condition of trebble hooks is …
Minutes are passing by. The wels is not moving far away but still is not willing to give up. Another 15-20 minutes passes by. Then I see bubbles on the surface – this is a good sign. The wels is getting weaker. Now I just need to calm down and do my job right. I'm rethinking the landing tactics before I finally see the fish on the surface. It is huge! The huge head contrasts with its small tail. The wels is coming closer to the shore much easier now. Marcin is trying to land the fish with his hands, trying to stick his thumb first between the jaws. Unfortunately he is not successful. He tries once again, and again no luck. Fortunately a carp fisherman with a huge landing net offers his assistance. Well, the head fits nicely but what about the rest? The wels is not as 'compact" as carp. Finally we manage to squeeze the entire fish to the landing net. To be honest I still don't know how we have managed to do that. Oh well, more luck than anything else…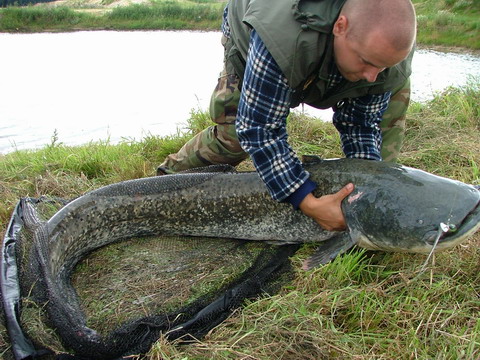 The fish is finally on the bank! It is beautiful and it is mine! Now a couple of pictures, measuring and weighing and we say goodbye to the wels. It was 186 long and exactly 35 kg. Of course soon all those questions start – what was the lure, how did it strike, what were the line, the rod, and the reel? When I showed my Sculptor reel the person who asked started to stare at me strangely, therefore I have just forgotten about mentioning the line (Power Pro up to 7 kg). Last year another fellow have hooked nearly the same wels using live fish as bait. With JAXON GENESIS 2,7m rod up to 50 (or 60) gram and 15 kg line he was fighting that fish well over 1,5 hour. I have landed mine in 30-35 minutes.
 Rafał Borysewicz