Pike on Slider
powrót
Just after we arrived, the lake welcomed us with heavy rain, that cooled our entusiasm to start fishing that evening. We decided to spend that evening, as usual, on necessary preparations (thanks God Sweds have strict limits on alcohol…). Next morning welcomed us with rain again, so some of us resigned from fishing (and it was not a good decision as showed up later…).
With my friend we started to fish in one of the closest bays. First fish were caught on neighbouring boat on jerkbaits (it was a debut of our friend with this method). After some time we landed our first pike too (swedish standard size – ap 70+ cm). But what happened in the next hour will be remebered for a long time.
We entered a small bay – an usual swedish hot-spot. Sparse reeds and a lot of half submerged rocks around.
After the one of the first cast, I struck a large esox, that unfortunatelly was lost close to the boat (fish was estimated to a metre long). I tried few more casts in the same direction and in the third cast I felt a powerful take, and this time I struck it hard (I fished using a baitcasting with a sinking Slider, coloured as a roach with red belly) and started to fight with the pike of similar size. This time my companion managed to net it and 106 cm (my new Personal Best) was presented to photo, and after few seconds was released and swam away (it crossed my mind, that it was the same fish, that I have had on my rod just few minutes ago).
After a while my boat partner hooked a fish. Fish stayed close to the bottom and by the way it fought we instantly knew that the fish was large, that it was a nice "Mom". It showed itself close to the boat and took our breath away. Fat, large, beautiful "Mom". Unfortunatelly as we were just to land the fish, the braid broke (probably on the knot) and to my companion's grief the fish swam away.
But we were not very upset and started to fish again. After the next cast with Slider I felt a strong take and strong resistance on my rod. I slowly fought with the fish and what I saw changed my way of looking at specimen fish and their feeding habbits. Imagine – I've got on my rod a huge pike with the green Dragon Lunatic that my friend fished with, stuck between its jaws. There was no doubt, that it was the same fish that we lost not long ago, just as it was close to our boat. The pike was 114cm long and after a short photo session it was safely returned to water. Something amazing, that I would not expect in my wildest dreams. At that spot we caught few more of smaller pikes. Even the one of 90cm long looked a bit small compared to that "Mom".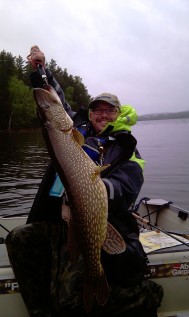 Radosław DEJNAKOWSKI